Circa Survivor Contest Thanksgiving + Week 12 (2022)
Jason from PoolGenius dives into Thanksgiving week and the two picks needed in the Circa Survivor contest.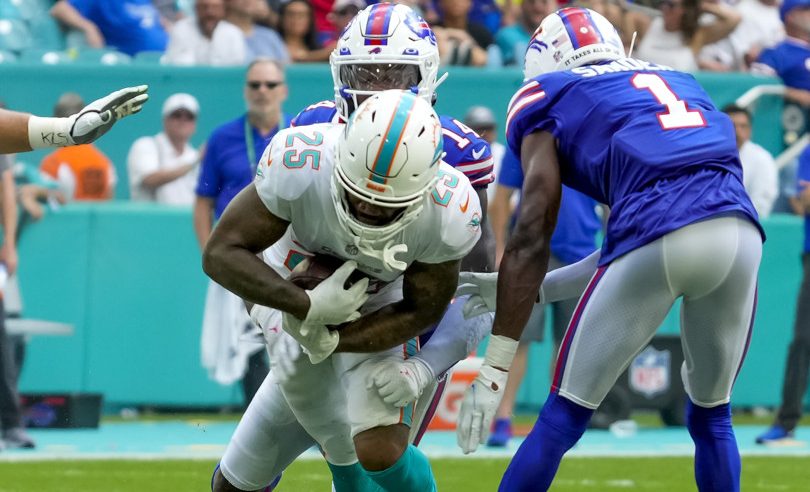 The Dolphins look to turn things around after a blowout loss (Photo by Andrew Bershaw/Icon Sportswire)
The Circa Survivor contest has arrived at the Thanksgiving slate, with 74 entries still alive and needing to pick one of the six teams playing. Those that get through that will need to immediately turn around and pick another team on Sunday or Monday in Week 12.
We'll go through the strategy and picks for both slates.
Circa Week 11 Results
Entering Week 11, there were 86 entries alive. Most of the favorites won in Week 11, even though there were a few sweats, but 12 entries went out on the Giants (9) and Packers (3).  That leaves us with 74 heading to the Thanksgiving showdown slate.
Each week, Jason projects the Circa pick rates to try to assess strategy and value. The Ravens' expected usage was spot-on, as most entries that had them used them, but less than 30% of the pool could make that call.
The biggest surprises were some higher-than-expected Buffalo usage, particularly considering that picks needed to be in by Saturday, when the Bills were just arriving in Detroit because of the snowstorm delays. Also, only two entries  used Washington, which was a low-value pick based on general public pick popularity trends but turned into a little-used alternative in Circa.
Week 12 and Beyond Menu
Below, you'll find content on each of the following:
Thanksgiving Day projected odds and pick rates
Future Value rankings for Circa
Sunday/Monday Week 12 projected odds and pick rates
Thoughts on both Thanksgiving and the rest of Week 12