How to Win NFL Playoffs Survivor Pools & Knockout Pools
Our strategy guide for winning NFL playoff survivor pools walks you through key topics and insights that maximize your edge.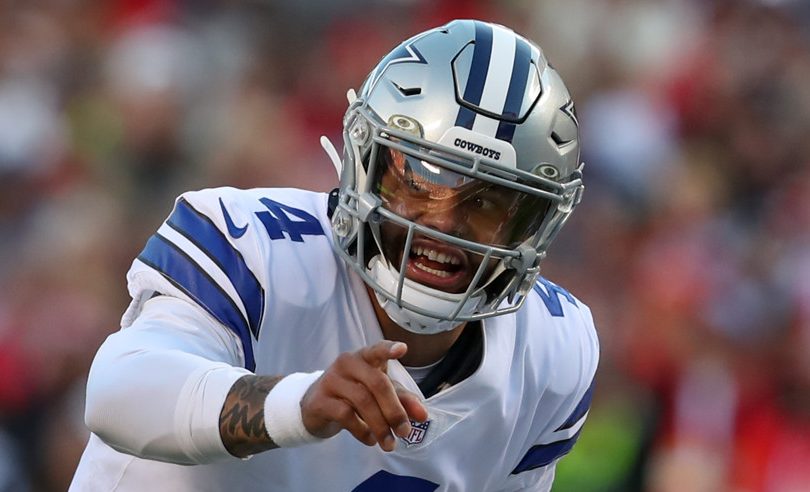 Dak Prescott and the Cowboys will hope to survive the playoffs (Scott Winters/Icon Sportswire)
Welcome to our NFL Playoffs Survivor Pool Strategy Guide, where we provide advice and insights on how to win contests that involve picking the NFL playoff games.
This article will go over general strategy principles and things to consider when playing in a NFL playoffs survivor, knockout, or similar type of pool. If you want to see our specific advice for this year's playoffs, check out our 2022-23 NFL Playoffs Survivor Picks Strategy, News, and Analysis article, which will update throughout the playoffs as we progress through each round.
NFL Playoffs Survivor Pool Strategy
At PoolGenius, we have given advice to thousands of subscribers over the years and have generated excellent returns in winning NFL survivor pools. If you play in season-long survivor pools, we have a Strategy Guide and have also written an e-book about survivor pool strategy.
But NFL playoffs pools can be a completely different beast, and some of the strategies that you would use to win during the long regular season are different than what you would use in a contest that is akin to a mad dash.
How NFL Playoffs Survivor Pools Differ From the Regular Season
Concepts like Expected Value and paying attention to pick popularity are still important. But there are some notable differences from regular-season pools:
The available games are far more limited, so pick popularity can be more concentrated;
The teams and matchups are generally closer in quality, making for more difficult choices when it comes to win odds;
The number of options gets progressively smaller as the playoffs continue, and if you don't plan ahead, you can run out of teams to pick;
You would rarely have any reason to pick an outright underdog in a typical survivor pool, but because of the heads-up nature of the playoffs (especially later rounds), you likely will have to pick one at some point.
Different Types of NFL Playoffs Survivor Pools
There can be any number of variations on survivor pools in the playoffs. The ideal strategy for playoff survivor picks can vary greatly depending on which teams you have left, what the exact rules of your pool are, and how many players you are competing against.
Here are some of the notable types of pools:
Pools That Extend From the Regular Season Into the Playoffs, With No Reset on Teams Available
In these pools, those that made it all the way through the regular season continue into the playoffs. But they cannot re-use teams, so some (or most) options may be unavailable to some entries.
Strategies for these type of pools include:
Taking who you have available, because you are probably limited and the contest may not last until the Super Bowl.
Looking for opportunities where you know who your opponents must pick, and being opposite them (if you have the favorite available).
Pools That Extend Into the Playoffs, But Teams Reset
In this type of pool, those that survived the regular season continue into the playoffs, but the slate is cleared and all teams are available at the outset of the playoffs.
Strategies for these type of pools include:
Being aware of potential playoff paths so you do not run out of options (see more below).
Accounting for pick popularity, so you can diversify from the crowd to increase your chances of winning a bigger pot share.
Survivor Pools That Start With the NFL Playoffs and Limit Team Selection
These are pools that begin with the Wild Card Round, but once you use a team in the playoffs, you cannot pick them again. These are strategically similar to those that extend into the playoffs and reset the teams.
Survivor Pools That Allow You To Pick Teams As Often As You Want
In these pools, you don't have to worry about saving teams.
Strategies for these type of pools include:
Balancing win odds and expected popularity to determine when it's better to be on a riskier but unpopular team.
Using popularity data from other types of contests, like pick'em pools, to assess the relative popularity of teams since traditional survivor pick rates may be less applicable (especially in later rounds).
The Importance of NFL Playoffs Survivor Paths
If you can pick each team only once, your Wild Card Round pick plays a huge role in determining your path through the whole playoffs. This is still true even with the expansion of the playoff field to 14 teams, even though the potential combinations and possibilities for each path have become more complex.
Because the potential slate of teams is reduced every week, the following are true:
Your Wild Card Round pick must lose in one of the next two rounds for you to survive the full playoffs and correctly pick the Super Bowl winner.
Your pick in the divisional round and conference championship round must lose its next game for you to survive through the whole playoffs.
You do have the option to switch paths from picking an AFC team in the Wild Card Round to picking an NFC team in the divisional round, or vice versa, if circumstances have changed because of specific matchups and odds.
But switching has a cost. If you want to survive through the Super Bowl, you'll need your own picks to win, plus you'll need your Wild Card Round pick to lose before the Super Bowl. So switching only makes sense if your Wild Card Round pick has set you on a tough path, and there's a much easier path available in the other conference.
Because of this, it generally makes sense to evaluate playoff survivor picks as entire paths rather than single picks (assuming your pool is large enough that you expect it to last through the entire playoffs).
The Public Primarily Picks on Biggest Spread and Does Not Follow Paths
Even though playoff survivor pools quickly force you to start picking against the team you just selected to have a pick available in the Super Bowl, public data suggests most entries do not employ that approach.
They tend to take the biggest favorite in the divisional round, even if it does not set them up to last through the Super Bowl.
Over the last three years, the most popular public picks in the divisional round have directly correlated with the biggest point spreads. Those picks had no correlation in matching up with the same paths as the most popular picks to advance from the Wild Card Round.
What does this mean for you when trying to maximize your chances of winning the pool and making smart picks?
In pools large enough to require you to get all four picks correct to win a prize, planning ahead and viewing your picks as a collective path to winning will give you a leg up. A segment of pool entries will be drawing dead if they successfully pick both eventual Super Bowl participants in the first three rounds, as they'll then be out of options.
The Impact of The New Expanded NFL Playoff Format
As if there hasn't been enough craziness in the sports world in recent years, the NFL expanded its playoff format in 2020 to include seven teams in each conference.
Now 12 teams are in action during Wild Card Weekend, with six games played instead of the prior four. That means all of the following, compared to strategy decisions from before the change:
There are more options for survivor entries to pick from, and with more favorites available, fewer entries will likely pick outright upsets in the Wild Card Round.
There are more complicated scenarios and combinations for matchups in the divisional round. The No. 1 seeds, for example, can play any of the teams seeded No. 4 to No. 7 depending on the results. The No. 3 seed can potentially host a divisional round game (if the No. 7 seed beats the No. 2), whereas before, it automatically had to play on the road.
There are more options and scenarios, which also means more strategic diversity. Under the old format, the No. 2 seed in each conference would be guaranteed to be available in the divisional round because it would have had a first-round bye. Now that the No. 2 seeds play in the Wild Card Round, plenty of the public will use them right away even though they're quite capable of reaching the Super Bowl.
Setting Expectations for NFL Playoffs Survivor Pools
The ideal strategy for playoff survivor picks can vary greatly depending on which teams you have left, what the exact rules of your pool are, and how many players you are competing against.
Before we go any further, it's important to stress the following:
On account of the parity inherent in the NFL postseason, even the less risky sequences of picks give you about a 1-in-10 chance of surviving the entire playoffs.
If your goal is to maximize your expected long-term returns from playoff survivor pools (i.e., to take the same approach we take with our survivor picks during the regular season), your Super Bowl survival odds will often be lower than 1-in-10 since you'll likely be making at least one unpopular, riskier pick to differentiate your entry from the crowd.
So if you're only playing one entry in a decently-sized playoffs survivor pool, you have to realize that the strategy with the highest long-term average profit—playing to maximize your long-term ROI on entry fees—may result in only winning and seeing a payout every 10 years, or every 20 or 30. The expected returns from the flip-side strategy, playing it very "safe" with your picks, may not even justify your entry fees in these pools.
Let's give some examples from last year. The ultimate winning path in a pool where you would have needed to get all four games correct would have started:
Buffalo (4.5-point favorite) over New England in the Wild Card Round.
Kansas City (2.5-point favorite) over Buffalo in the divisional round.
Cincinnati (7-point underdog) over Kansas City in the AFC Championship Game.
LA Rams (4.5-point favorite) over Cincinnati in the Super Bowl.
Most of the picks that worked out were not heavy favorites and not the most popular pick that week.
Could you have gotten there with some different paths? If you had, say, picked Tampa Bay in the first round and then switched successfully to Kansas City in the Wildcard, yes.
Or picked Tampa Bay and then picked San Francisco to beat Green Bay, and then made the decision to NOT pick the Rams but go with the underdog Bengals, sure. But that would have been taking lots of risks on both immediate win odds and getting frozen out by the Super Bowl with different results.
So don't think you can "play it safe" in the playoffs by picking a big favorite. Every pick has risks, and getting through all four weeks will take some luck.
What you can do is try to differentiate yourself from the crowd by picking paths that combine decent overall odds and less popularity. That'll help you win more when you do succeed.
Good luck!