Week 16 Football Pick'em Contest Strategy & Advice (2022)
Week 16 brings us cold weather, holidays, and lots of key NFL games for your pick'em pools.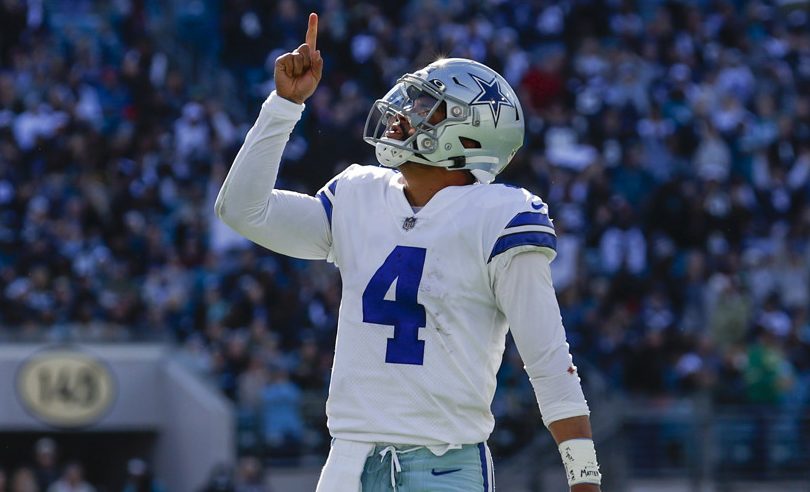 Dak wants you to check out all our content in the menu bar (David Rosenblum/Icon Sportswire)
The Christmas schedule is here for Week 16, and we only have three weeks remaining to find out which entries turn out naughty or nice.
In these columns, we explore strategies to maximize your edge in NFL and college football pick'em contests. We also provide some of the rationale behind picks potentially recommended by our premium product.
As a programming note for this week: With the holidays on the weekend, we will do our normal Sunday AM rundown on Friday afternoon. The majority of games are taking place Saturday on Christmas Eve anyway. We will only update on the weekend if there is big news that impacts the picks.
Here's what's available now:
---
Friday 12/23
Reviewing Final Week 16 Dynamics On Friday Afternoon
This update will serve as the typical Sunday morning update, since that is Christmas and most of the games are played tomorrow.
Here are the key NFL value plays for Week 16:
Carolina vs. Detroit (45% win odds, 11% popularity): Detroit is an extremely popular pick on the road here, but Carolina is an underdog of less than a field goal.
Dallas vs. Philadelphia (67% win odds, 61% popularity): The popularity has risen a bit here for Dallas, but the Cowboys are still a value favorite.
Denver at LA Rams (58% win odds, 42% popularity): Denver is favored, but the Rams are slightly more popular.
Houston at Tennessee (42% win odds, 8% popularity): Ryan Tannehill is out for this game, and Malik Willis will make his second start against Houston this year. The public is still all over the Titans.
Detroit is the most popular spread pick this week, followed by Cleveland, the LA Chargers, and Cincinnati.
In season-long pools, a lot of you are in good positions based on the performance to date, and a lot of the bigger leans are because of line-value moves.
These statements are generalities, but there are plenty of exceptions. Right now, in max-profit, the most common spread picks are:
Houston
New England
Kansas City
Tampa Bay
Green Bay
Washington
In weekly contests, you will see most of those teams plus more of:
Carolina
New Orleans
NY Giants
Dallas
Indianapolis
---
Thursday 12/22
Jags-Jets on TNF to Start Week 16
The Jacksonville Jaguars and New York Jets start our Week 16 slate tonight, featuring the top two QBs taken in last year's draft. They are going in opposite directions, though. Jacksonville's Trevor Lawrence has been surging as of late, while Jets QB Zach Wilson is only playing (after getting benched) because of Mike White's injury.
New York is a 2.5-point home favorite, but this game is expected to be played in cold, rainy conditions. It's a pretty big one for the AFC playoff picture, too. Both teams have an outside chance of reaching the postseason, but they need a win today to improve those chances.
This game opened as a pick'em, and the line has shifted to the Jets through the week. The public is still slightly on Jacksonville (51%), so you should see more picks on the favored Jets tonight in your pools.
---
Wednesday 12/21
Lots of QB News and Movement
Well, it's been an eventful week when it comes to QB news. Here's a recap of what we know as of Wednesday afternoon:
QB Jalen Hurts may not play for Philadelphia because of a shoulder injury, though he hasn't been officially ruled out.
QB Ryan Tannehill has an ankle injury and is likely done for the year.
Arizona is down to third-string QB Trace McSorley, as Colt McCoy is out with a concussion.
Matt Ryan has been benched (again), so Nick Foles will start for the Colts this week.
Russell Wilson is on track to play this week for Denver after missing last week.
Kenny Pickett has cleared concussion protocol and will likely start for Pittsburgh.
Lamar Jackson is still not practicing for Baltimore.
Phew.
All of that news has shifted some lines and is impacting some value picks, most notably in the Tampa Bay vs. Arizona, Dallas vs. Philadelphia, and Tennessee vs. Houston.
---
Tuesday 12/20
Reminder: Endgame Pick Strategy in Effect
Before Week 14, the pick logic shifted depending on your season goal. (You can read more about endgame strategy and how it might impact your picks here.) As a result, if you have selected Max Profit as a goal and are trailing a prize position, your picks will likely get riskier, with the level of risk dependent on your place in the standings.
You should evaluate whether you want to go for Max Profit or Avoid a Bad Finish. The most common result when you become a little riskier with picks is that you drop in the standings.
The best way to come back and get in the money in a pool is to take those chances when there is a relative payoff, so you have to risk something to get something.
It's a lot like a football team's decision to go for it on fourth down rather than punting it back and keeping the score close late in the game. It's the best way to make a big play, but the most likely result is a bigger loss.
If where you finish—even if it isn't in the money—is important to you for other reasons, such as finishing above your co-worker or family member, now is the time to adjust your pick goals by editing your pool.
---
Tuesday 12/20
NFL Week 16 Early Value Picks
Here are some value picks we are seeing early on for Week 16. There are lots of values showing up this week, so the best ones could shift as the week goes on. And remember, the majority of games take place on Saturday, Christmas Eve, so get your picks in before checking out for the weekend.
Dallas Cowboys (vs. Philadelphia Eagles)
Spread: -5.5
Win Odds: 69%
Pick Popularity: 49%
Eagles QB Jalen Hurts' status for this one is uncertain because of a shoulder injury. The market has already moved Dallas to a 5.5-point favorite in anticipation of him resting.
The public is currently about evenly divided on this one, with about half picking the 13-1 Eagles. While that pick rate should move some as the week progresses, Dallas has a good chance of still being a value favorite pick by Saturday.
Carolina Panthers (vs. Detroit Lions)
Spread: +2.5
Win Odds: 45%
Pick Popularity: 14%
Detroit is on a roll, winning six of its last seven, and the public is all over the Lions this week. The Andy Griffith Show wasn't even a thing yet the last time this many people picked the Lions to win a game.
While Carolina is an underdog, it is only a slight one at home. There's some upset value here in weekly pools.
Denver Broncos (at LA Rams)
Spread: -2.0
Win Odds: 51%
Pick Popularity: 32%
Over half the public is apparently unaware of what the Rams have become over the course of the season. They are somehow the more popular side in this one despite Denver being the favorite.
Denver did just fine without Russell Wilson last week, though he could return this week.
The Broncos' defensive front has a major advantage over the Rams' offensive line. The Rams have managed only 15.5 points per game in their four games without QB Matthew Stafford, so there's some value on Denver here.
Pittsburgh Steelers (vs. Las Vegas Raiders)
Spread: -3.0
Win Odds: 60%
Pick Popularity: 60%
The Steelers will try to avoid an end-of-game lateral that allows the Raiders to win.
Both of these teams come in at 6-8 and are trying to keep any slim playoff hopes alive. The favored Steelers are coming at solid value with 40% of pool entries on the Raiders.
New York Giants (at Minnesota Vikings)
Spread: +3.0
Win Odds: 40%
Pick Popularity: 13%
Yes, we are opposite the Vikings again. Lightning can't strike twice, can it?
The Vikings aren't a dominating team, but they remain super popular relative to their actual performances. The Giants came up with a big win last week over Washington to revive their playoff hopes, and they can try to secure a spot with another big win here going against Minnesota's poor defense.
---
Tuesday 12/20
Week 15 Results Summary
Week 15 featured a lot of excitement, a historic comeback, and some shootouts, but not many actual upsets. In spread pools, on the other hand, the dogs were barking.
Game-Winner Pools
In game-winner pools, the public averaged 10.9 wins out of 16 games in Week 15. Favorites won 12 games, with the biggest upsets being the Giants over Washington and Jacksonville's comeback against Dallas.
Overall, our season-long "Max Profit" picks finished ahead of the public at 11.3 wins.
Meanwhile, weekly picks dipped below the public at 9.5 wins. Several high-leverage upsets just missed, most notably the Colts blowing the 33-0 lead against the Vikings.
Spread Pools
The public finished under .500 in Week 15 in spread pools, averaging 7.7 wins in 16 games.
Our pick recommendations in season-long pools finished nearly 1.5 wins ahead at 9.1 wins on average. Weekly picks, which played even more against the public with unpopular underdog plays, finished at 10.5 wins, nearly three wins in front of the public average.
Overall Season Summary
Game-winner season-long max-profit picks are now over eight wins ahead of the public average through 15 weeks, and they have outperformed the public average in 11 of the 15 weeks. Spread-pool picks have done even better, as both the season-long and weekly picks have outperformed the public by 20 and 22 wins, respectively, in pools that pick every game.
---
FYI
Important Notes About Picks We Highlight
Keep in mind three things about picks we highlight in this article:
Optimal pick'em contest strategy balances risk and potential reward.
Maximizing your odds to win a pick'em pool generally requires exploiting the best opportunities to differentiate your picks from your opponents's picks. Ideally, you want to fade the public while taking on minimal additional pick risk to do so. For example, taking a betting market favorite being picked by less than 50% of your opponents is usually a great opportunity.
Not all of the picks we highlight are suitable for all pools.
Don't be surprised if our Football Pick'em Picks product doesn't recommend several of the picks we mention in this post for your pool specifically—especially the upset picks. The best pick strategy for you depends on a number of factors such as your pool's size, rules, and prize structure (a concept that's covered in part by our article on season vs. weekly prize strategy).
Picks we highlight may no longer look compelling by game day.
We analyze and write about picks using data (e.g. win odds and pick popularity) current at the time we publish this article, but that data can change before kickoff. For example, key player being ruled out or a shift in public sentiment about a team can erase the differentiation value that a pick initially offered.
We'll provide periodic updates in this post if major data changes occur for picks we've mentioned, so make sure to check back. However, there's a much better way to stay on top of changing data trends throughout a week, which all sharp players need to do.
Our Football Pick'em Picks product automatically imports the latest win odds and pick popularity data multiple times per day. You can see the latest information in the Data Grid.
After you generate customized picks for your pool, you can also update those pick recommendations whenever you want via the My Pool Picks screen. The updated picks will incorporate the most recent data we have.
---
FYI
About Our Pick'em Pool Advice
What makes pick recommendations from our Football Pick'em Picks product different from other sites is that it isn't generic.
In any given week, the best picks for your football pool depend on a number of variables. Your pool's size, rules, and prize structure all influence strategy, as do factors like your current place in the standings and how many weeks are left.
So many different scenarios exist that it's impossible to give pick advice that makes sense for every one. An underrated 6-point underdog could be a great pick in a big weekly prize pool and a terrible pick for a small season-long pool where you're currently in the money.
Technology to the rescue
As far as we know, we're the only site that has built algorithms to evaluate all these strategy factors and provide you with customized pick recommendations every week.
The result? Every year, an average of 71% of our subscribers win a prize (season-long or weekly) in a football pick'em contest.
If you want to see all the Week 1 picks we recommend for your football pick'em contest, use our Football Pick'em Picks product.
Why we write this column
At the same time, we know our subscribers like to understand the rationale behind picks our product may recommend, especially when those picks go against the grain. So over the years, we've started to write more about the "whys" behind our approach.
This column can also help educate our readers with pick'em pool strategy. We highlight tactics proven to result in more pick'em pool wins over the long term and point out common pitfalls to avoid.
We hope you enjoy reading, and we encourage you to check out more of our football pick'em strategy articles.
---