Week 1 Football Pick'em Contest Strategy & Advice (2022)
Week 1 of the 2022 NFL season features many close matchups. Here's what you should consider as you make your picks in pick'em contests.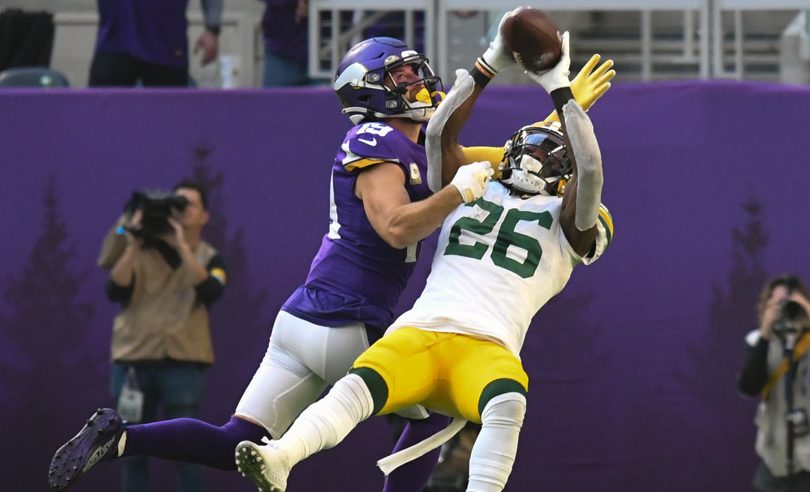 The Packers and Vikings will be a key swing game in Week 1 (Nick Wosika/Icon Sportswire)
We have launched our Football Pick'em Picks product for 2022, along with our initial pick'em contest strategy and advice column for Week 1 of the 2022 NFL season.
In these columns, we explore strategies to maximize your edge in NFL and college football pick'em contests. We also provide some of the rationale behind picks potentially recommended by our premium product.
We plan to periodically update to this post through Sunday of Week 1, so check back for updates. Here's what's available now:
---
Sunday 9/11
Reviewing Final Week 1 Dynamics On Sunday
For the opening week of the NFL season, we are seeing some late data shifts. These are impacting the value picks available.
The primary one among them is a game where we have seen the odds shift. The team that is now favored (Minnesota) has been the slight underdog all week.
Here are the key NFL value plays for Week 1:
Minnesota (56% win odds, 37% popularity). Minnesota was already an unpopular toss-up this week and was likely part of most recommendations. With the line shift after the overnight news of several key Packers offensive players being out, the Vikings are both a higher value and the favorite. You should see them across nearly all formats. (In spread pools, most entries probably have them at an underdog line.)
Cleveland (49% win odds, 27% popularity). Cleveland is another unpopular toss-up that's being picked like a larger underdog in a game that could go either way. In weekly contests and in some season-long ones, you should see Cleveland in your picks.
NY Giants (37% win odds, 7% popularity). The Giants are the best value gamble, so you may only be seeing them if your pool format dictates more risk. They will be one of the top plays in spread pools, and possibly a key pick in weekly contests, especially larger ones. In season-long pools, where we have a lot of games to go and play it conservatively early, you'll see more picks on Tennessee to follow the crowd and differentiate elsewhere.
Miami (64% win odds, 69% popularity). The Dolphins technically aren't a value favorite, but they are the highest-leverage team with greater than 60% win odds. Enough of a typical pool is picking the Patriots, but the Dolphins are still favored by more than a field goal.
Dallas (45% win odds, 33% popularity). Finally, if your pool is large enough to need an additional differentiating game in weekly contests, you could see Dallas as a small underdog that is somewhat unpopular.
In spread pools, you are likely to see picks on the Giants, as noted above, and also some games our models like and where the line has moved. Those include:
Philadelphia (moved from -3.5 to -5)
Minnesota (moved from +1 to -1.5)
You could also see picks going against the most popular public spread picks. The two teams being picked by more than 70% of the public (besides Tennessee vs. the Giants) are Denver and Baltimore, so you may see some Seattle and NY Jets recommendations as well.
---
Friday 9/9
College Football Value Picks
Here are your college football value picks for Week 2.
Value Favorites
BYU (-3) vs. Baylor, picked by 27% of the public with 55% win odds
Toledo (-28.5) vs. UMass, picked by 92% of the public with 98% win odds
Air Force (-17.5) vs. Colorado, picked by 80% of the public with 86% win odds
Texas Tech (-4) vs. Houston, picked by 55% of the public with 60% win odds
Value Upset Picks
In weekly contests, these are the some of the picks you might see as upset values:
South Carolina (+8.5) vs. Arkansas, picked by 5% of the public with 27% win odds
Stanford (+7.5) vs. USC, picked by 6% of the public with 27% win odds
Georgia State (+7) vs. North Carolina, picked by 11% of the public with 32% win odds
Navy (+5) vs. Memphis, picked by 18% of the public with 37% win odds
Kentucky (+6) vs. Florida, picked by 16% of the public with 35% win odds
Boston College (+2.5) vs. Virginia Tech, picked by 28% of the public with 44% win odds
---
Thursday 9/8
Rams-Bills Kicks Off NFL Season Tonight
The 2022 NFL season has arrived. We get a great matchup to start with the defending champion Los Angeles Rams opening at home against the Buffalo Bills, who enter the season with the highest Super Bowl odds.
The Bills are the favorite in this game (-2.5) so you should expect to see them as the pick in season-long game-winner pools. However, Buffalo doesn't have super-high win odds (55%), so whether you are getting the Bills or the Rams in weekly contests may depend on your pool size.
In confidence pools, this game will likely show up at lower point value either way. These are two great teams and we could see lots of offense, so sit back and enjoy.
---
Tuesday 9/6
Top Value Gamble Plays for Weekly Contests
Let's highlight some upset picks that make the most sense for weekly prize contests.
In a season-long pool, picking favorites and letting others fall by the wayside over time is a solid strategy. In weekly contests where a few high-leverage games swing the standings, though, taking bigger risks can be the best play when the payoff makes sense.
Your recommendations in My Pool Picks for a weekly prize contest, particularly a larger one, might seem a bit crazy. But remember, the more entries you are competing against, the more extreme results you need. If you can take a team with a 25% chance of winning but is barely being picked, you increase your chances to win if you leverage that upset.
With that in mind, here are some of the best bang-for-the-buck upset plays for weekly contests. Which ones make sense (and how many) depend on your pool size and other rules.
Minnesota (vs. Green Bay)
Spread: +2.0
Win Odds: 51%
Pick Popularity: 43%
This isn't a huge upset pick, and the popularity numbers aren't completely one-sided, but our models have the Vikings as a virtual toss-up in the home opener against the Packers, while the majority of pool entries are on the other side.
That makes the Vikings a solid play in weekly contests, where you aren't taking on much more risk by picking the slight underdog.
New York Giants (at Tennessee)
Spread: +5.5
Win Odds: 36%
Pick Popularity: 18%
The Giants are one of our top model plays if you are a betting picks subscriber, as we show value both against the spread and moneyline. Meanwhile, about half as many entries are picking them compared to our projected win odds.
Cleveland Browns (at Carolina)
Spread: +2.5
Win Odds: 45%
Pick Popularity: 36%
The Browns travel to Carolina, where they will immediately face off against former QB Baker Mayfield. This is a game that has been on a rollercoaster as far as the win odds and spread throughout the offseason, based on the QB news related to both Mayfield and Browns QB Deshaun Watson. The Browns were favored by over four points right after the NFL Draft, it shifted downward after the Mayfield trade, and now has settled at the Panthers being favored with Watson's suspension to start the year confirmed.
Jacoby Brissett is the starting QB for Cleveland in this one, and he has been a fairly average backup in recent seasons. But Cleveland still has a roster loaded with top talents, and you might see the popularity on this one continue to shift toward the Panthers as casual fans log their picks this week. That could make for some slight value on the Browns as an upset pick in weekly pools.
---
Monday 8/29
NFL Week 1 (Very) Early Value Picks
Below are some picks initially setting off the value radar for Week 1 in game-winner-based NFL pick'em contests. Things are bound to change as kickoffs near, but it's worth keeping an eye on them.
The first thing we'll note before getting to the games is that so far, there aren't any huge value plays where the public picking rates are significantly off implied betting market odds.
That might change as public picking trends get more influenced by a larger number of participants who may not be as skilled as hardcore, very early pick-makers.
Minnesota Vikings (vs. Green Bay)
Spread: +2
Win Odds: 50%
Pick Popularity: 40%
Dallas Cowboys (vs. Tampa Bay)
Spread: +1.5
Win Odds: 48%
Pick Popularity: 39%
While neither Minnesota or Dallas is a huge value right now, both figure to be quality teams this year, and they are playing at home as slight underdogs. They each have a better chance to win than the public pick rates suggest right now.
In fact, our models have Minnesota (playing at home) as even with Green Bay, in a series where home-field advantage has been fairly strong over the years. Minnesota has a slight winning record (6-5 SU) as a home underdog to Green Bay over the last 20 years.
Meanwhile, Dallas will face Tampa Bay in the season opener for the second year in a row. Last year's game went down to the final seconds in Tampa. Both of these teams have some offensive question marks due to injuries, but it should be a close matchup.
Indianapolis (at Houston)
Spread: -8
Win Odds: 81%
Pick Popularity: 88%
Denver (at Seattle)
Spread: -6.5
Win Odds: 75%
Pick Popularity: 83%
Both of these teams are among the larger favorites in Week 1, but their pick popularity isn't so high that you should be tempted to gamble on an upset.
The Colts are the largest favorite of Week 1 so far, but they aren't the most popular pick. (Baltimore is right now.) It's pretty rare for the biggest favorite of the week to be at less than 95%+ pick popularity, so relatively speaking, the Colts are already a relatively trendy big upset pick.
Meanwhile, Russell Wilson is playing his first regular-season game for the Broncos, and in a completely random coincidence, it happens to be against his former team. Our models give the new-look Broncos higher win odds than similarly popular favorites this week like Cincinnati and Tennessee. So right now, we don't see value in picking a homecoming upset and would stick with the Broncos in Wilson's debut.
Miami (vs. New England)
Spread: -3
Win Odds: 60%
Pick Popularity: 64%
There aren't any underrated favorites in Week 1 right now (that is, a team favored in the betting markets but being picked at a lower rate than its implied win odds). One of the closest teams to becoming one, depending on how things shift before kickoff, is Miami.
As a result, the Dolphins are one of the shorter favorites you should probably stick with picking in both weekly and season-long contests this early in the season. They have lower popularity than some other favorites that we project with similar win odds (Kansas City, Washington), and they have higher win odds than several other toss-up favorites in Week 1.
---
FYI
Important Notes About Picks We Highlight
Keep in mind three things about picks we highlight in this article:
Optimal pick'em contest strategy balances risk and potential reward.
Maximizing your odds to win a pick'em pool generally requires exploiting the best opportunities to differentiate your picks from your opponents's picks. Ideally, you want to fade the public while taking on minimal additional pick risk to do so. For example, taking a betting market favorite being picked by less than 50% of your opponents is usually a great opportunity.
Not all of the picks we highlight are suitable for all pools.
Don't be surprised if our Football Pick'em Picks product doesn't recommend several of the picks we mention in this post for your pool specifically—especially the upset picks. The best pick strategy for you depends on a number of factors such as your pool's size, rules, and prize structure (a concept that's covered in part by our article on season vs. weekly prize strategy).
Picks we highlight may no longer look compelling by game day.
We analyze and write about picks using data (e.g. win odds and pick popularity) current at the time we publish this article, but that data can change before kickoff. For example, key player being ruled out or a shift in public sentiment about a team can erase the differentiation value that a pick initially offered.
We'll provide periodic updates in this post if major data changes occur for picks we've mentioned, so make sure to check back. However, there's a much better way to stay on top of changing data trends throughout a week, which all sharp players need to do.
Our Football Pick'em Picks product automatically imports the latest win odds and pick popularity data multiple times per day. You can see the latest information in the Data Grid.
After you generate customized picks for your pool, you can also update those pick recommendations whenever you want via the My Pool Picks screen. The updated picks will incorporate the most recent data we have.
---
FYI
About Our Pick'em Pool Advice
What makes pick recommendations from our Football Pick'em Picks product different from other sites is that it isn't generic.
In any given week, the best picks for your football pool depend on a number of variables. Your pool's size, rules, and prize structure all influence strategy, as do factors like your current place in the standings and how many weeks are left.
So many different scenarios exist that it's impossible to give pick advice that makes sense for every one. An underrated 6-point underdog could be a great pick in a big weekly prize pool and a terrible pick for a small season-long pool where you're currently in the money.
Technology to the rescue
As far as we know, we're the only site that has built algorithms to evaluate all these strategy factors and provide you with customized pick recommendations every week.
The result? Every year, an average of 71% of our subscribers win a prize (season-long or weekly) in a football pick'em contest.
If you want to see all the Week 1 picks we recommend for your football pick'em contest, use our Football Pick'em Picks product.
Why we write this column
At the same time, we know our subscribers like to understand the rationale behind picks our product may recommend, especially when those picks go against the grain. So over the years, we've started to write more about the "whys" behind our approach.
This column can also help educate our readers with pick'em pool strategy. We highlight tactics proven to result in more pick'em pool wins over the long term and point out common pitfalls to avoid.
We hope you enjoy reading, and we encourage you to check out more of our football pick'em strategy articles.